Fujifilm ha anunciado actualizaciones de firmware con sustanciales avances para las Fujifilm X-T3, X-H1 y GFX 50S. Hay que destacar las mejoras en el estabilizador del cuerpo para la X-H1, la introducción de la grabación 4K HDR HLG para la X-T3 y el modo 35mm para la GFX 50S. Se podrán descargar a partir de finales de noviembre.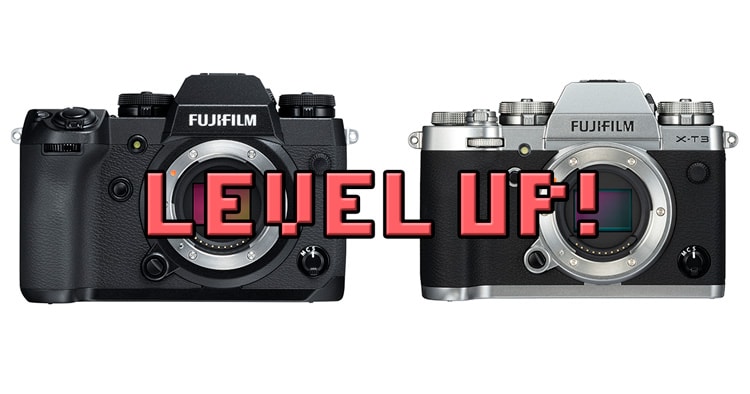 Traducción en progreso…
Firmware 2.00 para la Fuji X-T3
Previsto para diciembre de 2018.
4K HDR video recording in Hybrid Log Gamma (HLG)
Supports 4K HDR video recording in the Hybrid Log Gamma (HLG), one of the formats defined in the ITU-R BT.2100 international standards 

*

. It allows the capture of rich and realistic images in a scene where there is a huge gap between highlight and shadow, or subjects with high color saturation.
*Only compatible with H.265(HEVC). Please enjoy with television or display compatible with HLG formats.
2. Simultaneous output of Film Simulation and F-Log footage **
Supports simultaneous output of Film Simulation and F-Log footage. It allows you to record in F-Log while checking Film Simulation image on an external monitor.
Recording over 4GB movie file as one file
Movie files are no longer split when the file reaches 4GB file size. The file is recorded as one file providing an SD memory card greater than 32GB is used (excludes 32GB)
4. Display color temperature (Kelvin) on EVF/LCD
Color temperature (Kelvin) can be displayed on EVF/LCD.
5. Supports slower shutter speeds with DCI4K/4K 29.97P/25P/24P/23.98P
6. Compatible with ALL-Intra and maximum bitrate 400Mbps with H.264
Using H.264 compression, you will now to be able to select ALL-Intra at a maximum bitrate of 400Mbps.
7. Display power supply icon
Power supply icon is displayed on EVF/LCD while using AC adapter (AC-9VS), or Anker PowerCore+ 26800 PD and Anker PowerCore Speed 20000 PD
Firmware 2.00 para la Fuji X-H1
Previsto para diciembre de 2018.
In-body image stabilization and optical image stabilization now work together to improve overall stability.
With an XF or XC optical image stabilized lens, in-body image stabilization worked with 3 axis (up and down / optical axis rotation). The remaining 2 axis (right and left pitch, yaw angle) was controlled by optical image stabilization in the lens. This firmware has a new image stabilization algorithm to allow the in-body image stabilization to work in all 5 axis and to achieve more than five-stops (up to the equivalent of 5.5 stops) image stabilization by cooperative control according to the types of frequency and blur amount.
Firmware 3.30 para la Fuji GFX 50S Ver. 3.30
Previsto para finales de noviembre de 2018.
Supports "35mm Format Mode" when using GF Lens and H mount adapter
"35mm Format Mode" crops the center of the sensor 36.0mm x 24.0mm (30.5M) and records JPEG and RAW file.
Improved eye-sensor response
Reduced the time to switch between EVF and LCD when you select "eye-sensor" on the viewfinder display settings.
Supports simultaneous delete for RAW and JPEG files
When RAW / JPEG is selected in the card slot setting (for still image), RAW/JPEG image can be deleted simultaneously. By selecting "OFF", only the RAW image will be deleted.
Supports EVF and LCD color adjustment
Color of EVF/LCD is adjustable from screen setting menu.
¿Es la primera vez que actualizas el firmware? ¿Necesitas refrescar la memoria? Aquí tienes una guía que detalla cómo actualizar el firmware de cámaras y ópticas de la Serie X.